Bangladesh Palli Bidyut Samity Job Circular 2020 has been published by their authority in daily newspaper Ittefaq and  and you can found on my website www.bdjobsone.com. The Power Bangladesh Palli Bidyut Samity was formed under the restructuring process of Power Sector in Bangladesh with the objective of bringing about commercial environment including increase in efficiency, establishment of accountability and dynamism in accomplishing its objectives, that controlled Bangladesh Palli Bidyut  everything around the cox bazar district, In recent time the organization looking new job holder of position  Assistant Accounted for their company empty vacancy. If you are interested power grid company Bangladesh job circular then you can check below all of requirements with job circular image and get ready for Bangladesh Palli Bidyut Samity Job Circular 2020 and finally submit your application.
■ Organization Name: Bangladesh Palli Bidyut Samity (All)
■ Post Position: Mentioned circular image
■ Job Posting Date: 9 February 2020
■ Application Deadline:  13, 16, 24 February and 9 March 2020
■ Salary: According to government policy
■ Number of Vacancy: N/A
■ Educational Requirements: See Below Circular Image
■ Age Limit for Jobs: 18 to 30 Years.
■ Experience Requirements: See Below Circular Image
■ Job Types: N/A
■ Job Location: Anywhere in Bangladesh
■ Job Source:  Newspapers.
■ How to Apply: Follow Below Job Circular Image.
Bangladesh Palli Bidyut Samity Job Circular 2020
Cumilla Palli Bidyut Samity-2 Job Circular 2020
■ Application Deadline: 29 March 2020
Faridpur Palli Bidyut Samity Job Circular 2020
■ Application Deadline: 8 March 2020
Chittagong Palli bidyut samity PBS-2 Job Circular 2020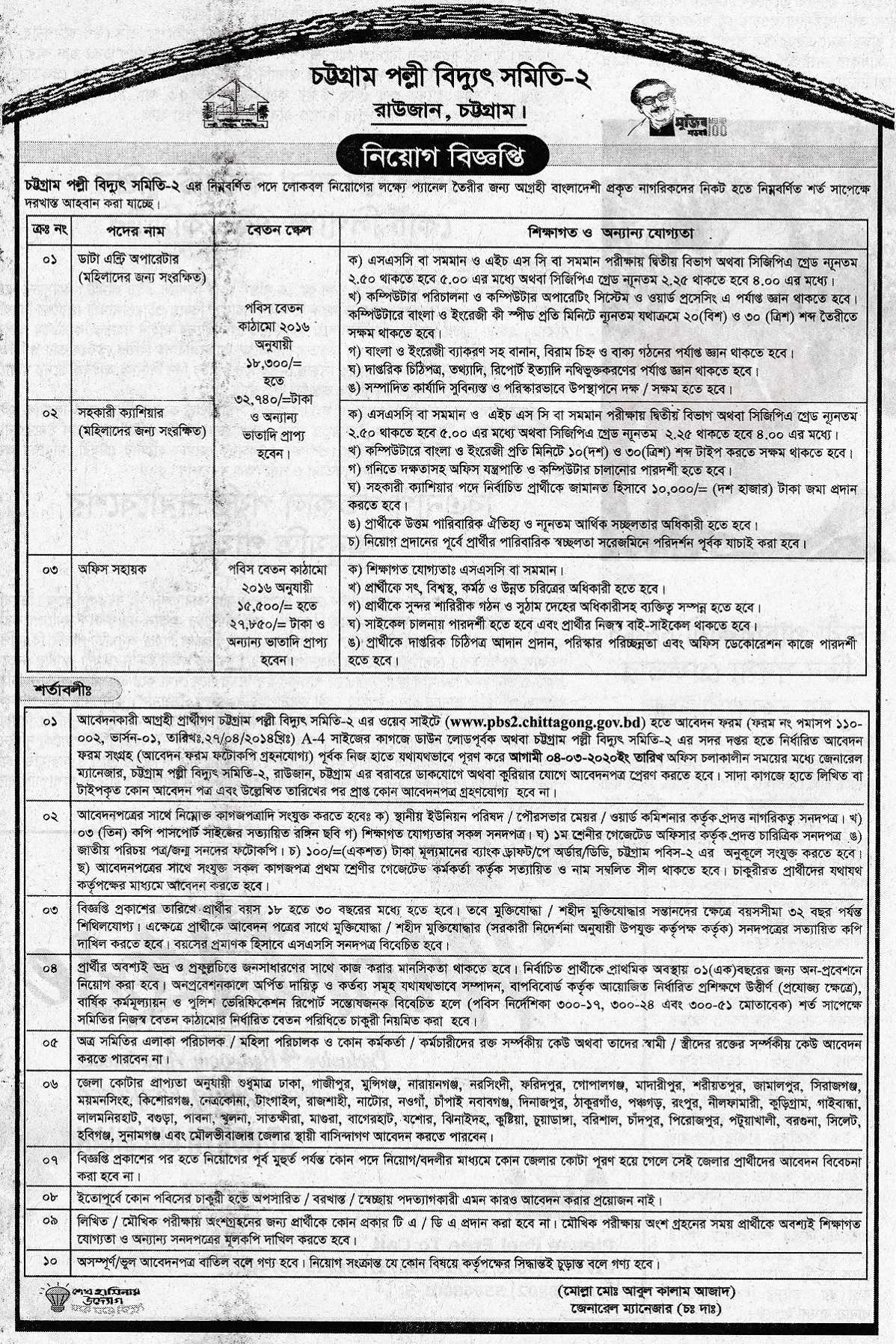 ■ Application Deadline: 04 March 2020
Narayanganj Palli Bidyut Samity Job Circular 2020
■ Application Deadline: 9 March 2020
Magura Palli Bidyut Samity Job Circular 2020
■ Application Deadline: 24 February 2020
Bagerhat Palli Bidyut Samity Job Circular 2020
■ Application Deadline: 16 February 2020
■ Application Deadline: 13 February 2020
If you want to more power grid company Bangladesh job circular to connect with BD Jobs One. We always published all types latest job circular news for jobs seekers as including power grid company job circular 2020, pgcb exam question, recent private bank jobs, private university lecturer jobs in Bangladesh, embassy jobs in Bangladesh, Prothom alo jobs, government and private jobs news in BD, most recent jobs in Dhaka, airlines jobs in Bangladesh and many more. Our main aim becomes a best jobs circular website in Bangladesh. So to, keep connected with us as well as like our Facebook Page and Join with Facebook Group. Hopefully you will be huge benefited by publishing recent jobs circular information. Thanks